"When disaster strikes, it tears the curtain away from the festering problems that we have beneath them,"

Obama
Most of the world is now shrouded in a thick cloud that is the coronavirus. It is shaping a lot of our daily lives, from shopping, travelling, visiting friends, work, economy and not the least health. Some businesses are going under whilst others struck with sudden increased demand. Chaos and panic abound. There will certainly be significant levels of economic and therefore industry impacts resulting from the virus. As a result of the sudden shifts in business decisions, what is the role of the change practitioner? With the right tools, data and approach, the change practitioner can be the lynch-pin to enable the organisation to plan effectively through the impacts of the virus.
Let's outline some of the current landscape and what a lot of businesses are undergoing.
Offshore staffing changes
Many companies are impacted by quarantine decisions. In certain countries such as the Philippines there is a significant presence of offshore operations. To rapidly contain the spread of the virus the Philippines government on Monday has ordered community quarantines covering half of the population leading to business shutdowns. What this means is that many companies have suddenly found themselves in the position of having to rapidly ramp up their onshore operations to deal with customer call volumes.
Even those who have other offshore operations not in the Philippines will be wise to review their business continuity planning in the event that their business partners are impacted.
Work from home
To protect employees from the spread of the virus a significant number of companies have asked all of their employees to work from home where possible. This also leads to a significant shift in the ways of working for these organisations, especially if the core skills of leading and managing workforce virtually are new skill sets. To read more about how to deal with the impacts of the virus go to our article Managing Change During the Cornoavirus.
Restricted travel
Most companies have also implemented restrictions on travel. Some countries have even implemented international travel quarantines, essentially reducing the majority of inflows of visitors.
Resource ramp-up
For those companies who need to ramp up onshore operations, this presents challenges in terms of the speed of resource ramp-up to meet customer demands. Challenges include the availability of technical equipment such as headsets and laptops, as well as finding the talent pool when there is restricted travelling.
Other companies are significantly benefiting from the current situation, for example, digital retailers such as Amazon, Ebay or medical equipment providers and suppliers.
Resource ramp down and cost containment
A lot of retailers are hard hit by the sudden slow-down of retail foot traffic. Airlines have drastically cut flights and travel agencies are hit by the lack of travel bookings. Some have started to lay off staff in anticipation of continuing downturn in customer numbers. Even for those who have not yet laid off staff, there is focus on cost containment amidst cost challenges from declining revenue.
Business continuity plans
Most of the businesses negatively impacted by the virus in a significant way are resorting to their business continuity plan. This means that the chain of command may be different from business-as-usual and decision making may be faster or slower depending on the nature of the decision. This also means that any business plans in place may change. Focus and resources may be shifted leading to significant change for employees.
Business replanning implications
Given significant disturbances to business-as-usual activities, what are the options in terms of existing change initiatives? Most organizations will be in the middle of reviewing or re-planning existing focus areas including change initiatives. The following are some of the likely scenarios.
Prioritise or re-prioritise existing initiatives
Defer existing initiatives as needed
Resource planning: Subject matter expert or business representative availability given any business continuity challenges, project resources (increased or decreased demand)
Scenario planning: Some companies are modelling various scenarios of the impact of the virus on the business in order to make arrangements from a risk and mitigation perspective
The role of the change practitioner
Impacts of changing plans
Given most large organizations are already undergoing various change initiatives to stay competitive, the changes caused by the coronavirus adds to the volume and pace of existing planned set of changes. The project management office, as well as other planning teams will benefit significantly from access to change impact information and data to make balanced decisions on any business replanning activities.
Some of these include:
Initiatives and impacts from a business unit perspective
Geographic differences in planned initiative impacts
Planned customer impacts
Visualisation of any existing black-out periods and other periods of high customer volumes or high employee workload periods (e.g. quarter-ends for Finance and peak customer policy renewal/purchasing periods)
Stakeholder group impact, e.g. customer-facing vs. non-customer facing staff
Hot spot analysis of team capacity impacts on top of existing planned initiatives
Impacts on customer segments
Impacts on partners and suppliers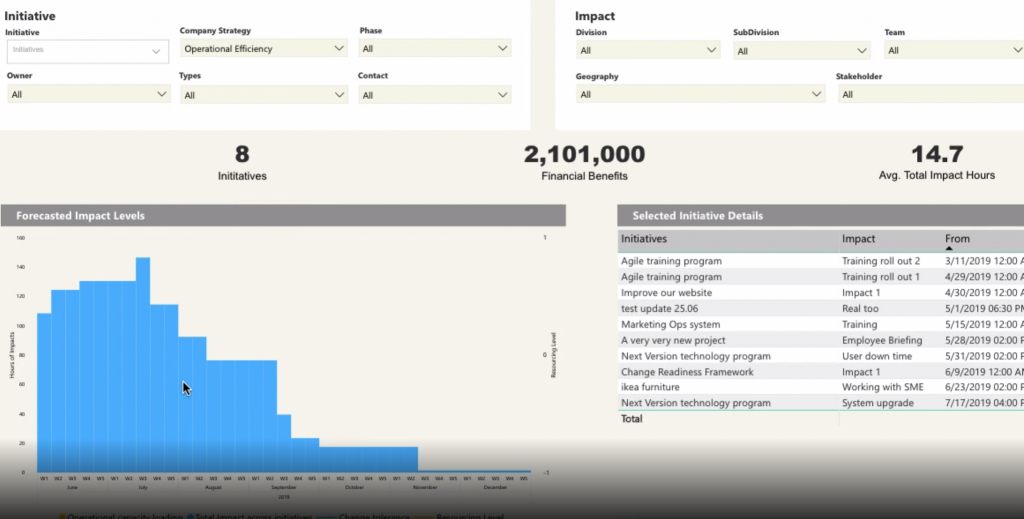 Model likely scenarios of moving initiatives
The other area in which the change practitioner may add significant value in the business replanning exercise is in helping to articulate and visualise the impact of moving initiatives. As outlined previously, these could be the result of re-sequencing, re-prioritisation or scenario planning to better manage risk exposure for the organisation.
In modelling the impacts of various scenarios, key call outs include:
Resourcing and capacity challenges
Change volume hotspots
Change velocity against existing business change capacity
Feasibility of allowing embedment of change between initiatives
Advantages or disadvantages of any change release 'packaging'
Plan restructuring exercises
Often restructuring exercises are lead by senior managers with the guidance of human resource partners from a people and HR policy perspective. However, the value of the change practitioner is in designing the restructuring as a project, containing scoped phases and planned according to a sequence of logical steps based on sound change principles. After all, restructuring exerts the highest impact on individuals more than other changes.
Restructuring is no different than other change initiatives. There needs to be clear articulation of the reasons or the 'why' behind the restructuring, logical articulation of how decisions are made, clear detailing of impacts to the organisations and people overall, and a series of planned steps in which to engage impacted stakeholders to support them through the change.
Adjusting change approaches to fit in with virtual working
With the sudden switch to working from home or virtual working, some employees may not be familiar or comfortable with this way of working. Existing change initiatives may have been designed with face-to-face sessions such as town halls, training sessions etc. With the virtual working environment change practitioners need to readjust the change approach and think through ways of driving effective change virtually.
These include such as:
Effective virtual facilitation
Ability to use technology to aid engagement
More frequent communications than previously planned
Allowing more implementation time due to the challenges of virtual working
Continuous engagement of employees during this change
In order to proactively engage the employee during this time of change, follow core change principles. For example, engage early and continuous to outline the direction of the organisation, and check-in continuously to gage employee sentiments to assess their change journey. Adjust and pivot as needed to provide any additional support. Share any wins such as examples of effective virtual working tips and employee profiles. Share stories of how effective teams have overcome the potential challenges of social isolation and still deliver solid business outcomes.