When I was a kid I used to love listening to my Walkman. I loved creating mixed tapes of my favourite music and shared these with my friends. We spend hours discussing the parts we loved about our favourite songs and so the rewind button became very well worn. It was almost unbelievable that my pride and joy would ever change. Well, it did. Many many times over. First, there were better models with higher fidelity, then slimmer walkmans, then tapes were out and in came minidisc players, and eventually CD players won the battle. After a few generations of ipods we now have phones and watches to replace the Walkman.
There are countless articles outlining how we are now facing unprecedented levels of change more than ever before driven by technology, innovation and continued globalization. Apple has now come to become the worlds largest manufacturer of smartphones when several years ago it was Motorola, Nokia and RIM. Utilities are facing significant changes with the increased cost of grid modernization, commodity price fluctuations and the focus on renewable energy sources. Financial services companies are facing a slew of regulatory changes, cost of maintaining IT currency, increased lending costs, growth of digital banking and increased online competition. Other industries undergoing significant change include the likes of telecommunications, certain government departments and health.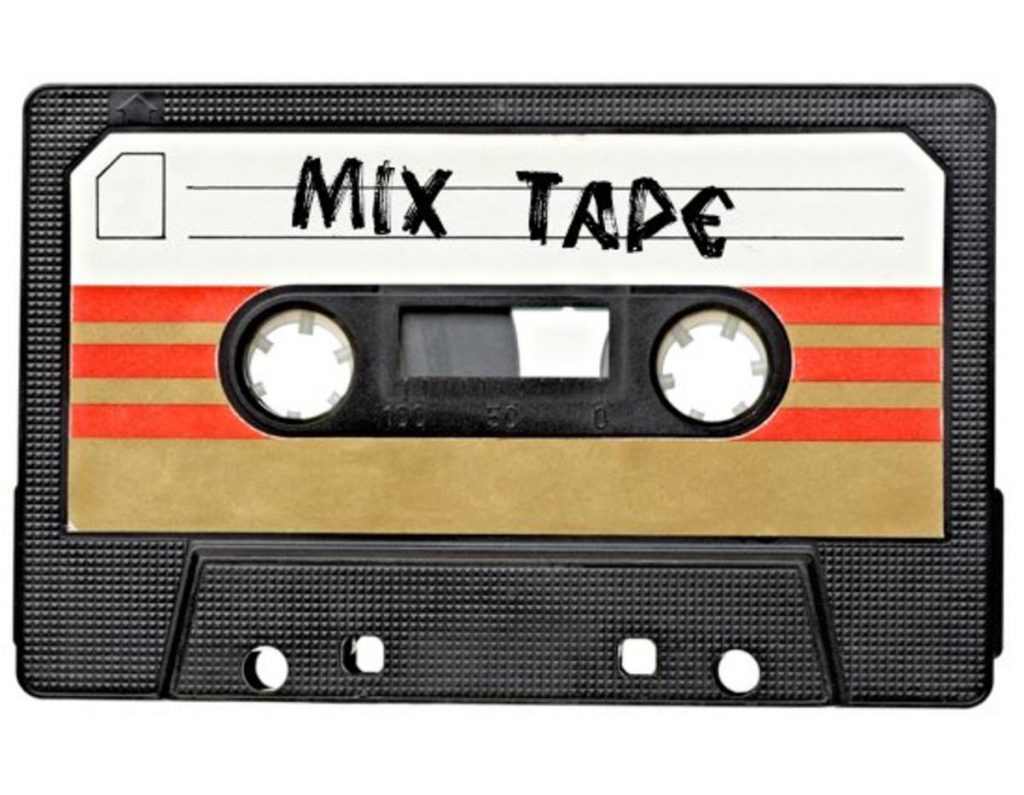 Portfolio management of change
So how does an organisation effectively manage and coordinate a large number of change initiatives and the effect of these on employee performance and customer experience?
Firstly, change initiatives in the eyes of employees and customers are initiatives where they are asked to do something differently. This could mean adjusting to a different look and feel when one logs into the company system, understanding a new product from a company, heads up on a new policy to be implemented across the organisation, corporate restructuring or cost-cutting initiatives. The new behaviors after the change initiative could include using the system differently, following a new policy, executing different work steps, or learning how to use a new product such as the new iWatch (no prizes for guessing which product I'm excited about).
To manage change effectively one must know what are the changes. This may sound overly intuitive, yet this is one of the key challenges for companies undergoing significant change. In most large companies, different departments manage different change initiatives in a siloed way. A marketing department may be driving numerous product changes concurrently as well as any compliance to government legislations on product disclosures. Call centre employees are impacted by multiple departments since call agents will need to be abreast of all product changes, system changes, legislative changes and sales/promotional initiatives.
In this way, you can see that change initiatives typically do not just impact one department, but multiple departments. For example, the roll out of a new IT system, a new departmental strategy (impacting how other departments work with this department), and new Finance or HR policy (usually impacting the whole company). Therefore, having a view across the whole company is critical to better manage the impact on employees and customers since it enables a clear understanding of what, when and how the changes will impact a group of employees and customers.
Single view of change
How does a company create one integrated view of all change initiatives? This depends on the size of the company. For smaller organisations or organisations in industries that are fairly stable and not prone to concurrent changes spreadsheets may suffice. However for larger organisations with large operations that spread across geographies or numerous functions, a much more rigorous approach may be needed.
Unfortunately, many of these larger organisations have still relied on various stand-alone spreadsheets requiring significant manual effort to undergo data gathering, verification, analysis and reporting. The data is as recent as the last time the person has made the call to the driver of change to verify the initiative. And most of the data have focused on cost, timeline, and resource data and neglected a critical piece of the pie, i.e. change impact data (the nature to which employees and customers are impacted by an initiative).
Take for example, within a given year a sizeable financial services company would likely face 10+ legislative changes, countless business improvement initiatives driven at corporate, divisional and sub-divisional levels, various restructuring efforts, at least 30+ technology changes, divisionally driven policy changes such as procurement, finance, HR, etc. And the list goes on. A previous organisation I had worked for had over 500 change initiatives for the year. No wonder divisional operations that are tasked with managing the various impacts on employees and customers were overwhelmed.
When I spoke to my colleagues in divisional operations they expressed that they were constantly challenged with understanding what changes are going to happen, from which department, hitting which teams, at what time frame, in what way, and the sizes of the impacts. With each department having their separate spreadsheets (or having none) and multiple changes impact the same group of people this has lead to continuous impacts on employee performance, operational efficiency, as well as the risk not fulfilling the initiatives, targeted benefits.
There was one story that described how a department was pushing for the call centre to sell as many Product A as possible to meet the sales target, and at the same time the other department has sent out communications stating that Product A is reaching end-of-life and that there should be no further sales. Imagine the impact of a confused agent team on performance results as well as the customer experience.
An example of one of many ways of change data visualisation (The Change Compass).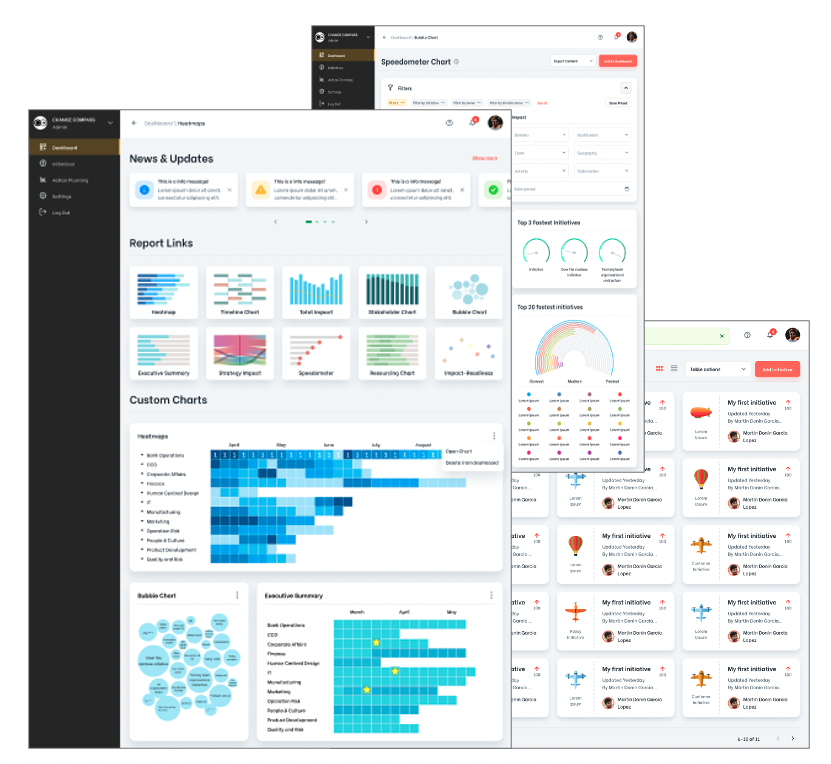 So for companies undergoing a multitude of changes what can they do to create an integrated view of all change initiatives no matter legislative, technology, policy, strategy, or product changes?
To be able to tally and maintain potentially hundreds of change initiatives an online tool will be extremely helpful to manage this complexity. To help reduce the complexity, to better communicate changes and to better manage risk, the online tool should contain the following characteristics:
Easy to administer and maintain for both drivers and receivers of change, meaning the tool should be quick to fill in and easy to access, whilst still capture key data points of people change impacts
Focused on collecting key people change impact data to supplement other existing project or business data
Effective and flexible reporting tools to help Operations Managers, PMO and senior managers to plan for people readiness for change initiatives
Analysis tools to help identify change risks such as change loading and timing issues that may require initiatives to be re-prioritised
Tailored for the organisation since every organisation will have different departments, types of changes, reporting requirements, etc.
However, we all know that any tool is as good as the people using them. An effective tool that helps to tell the story of the series of changes the company is embarking on needs to be supplemented by 1) an effective operating rhythm to embed the tool into the normal operations of the company, and 2) capability in leveraging the tool to make business decisions.
1. Operating rhythm to embed the tool.
This includes driving the operating processes of using the tool across all divisions of the organisation. So for Marketing, there should be roles identified to be charge of coordinating product changes and ensuring these changes are entered into the tool. A marketing planning role may also need to be identified to analyse the data from the tool to plan product launches after assessing the timing appropriateness of various launches (against the picture of initiatives that impact particular groups of employees and customers).
Having an integrated picture of change initiatives through this tool will also result in the need to create an enterprise level (corporate/group level) governance body or committee to oversee the ongoing development and usage of the tool to meet the needs of various stakeholders and to discuss any strategic issues around change delivery risks and initiative prioritization (these two purposes may be allocated to different committees).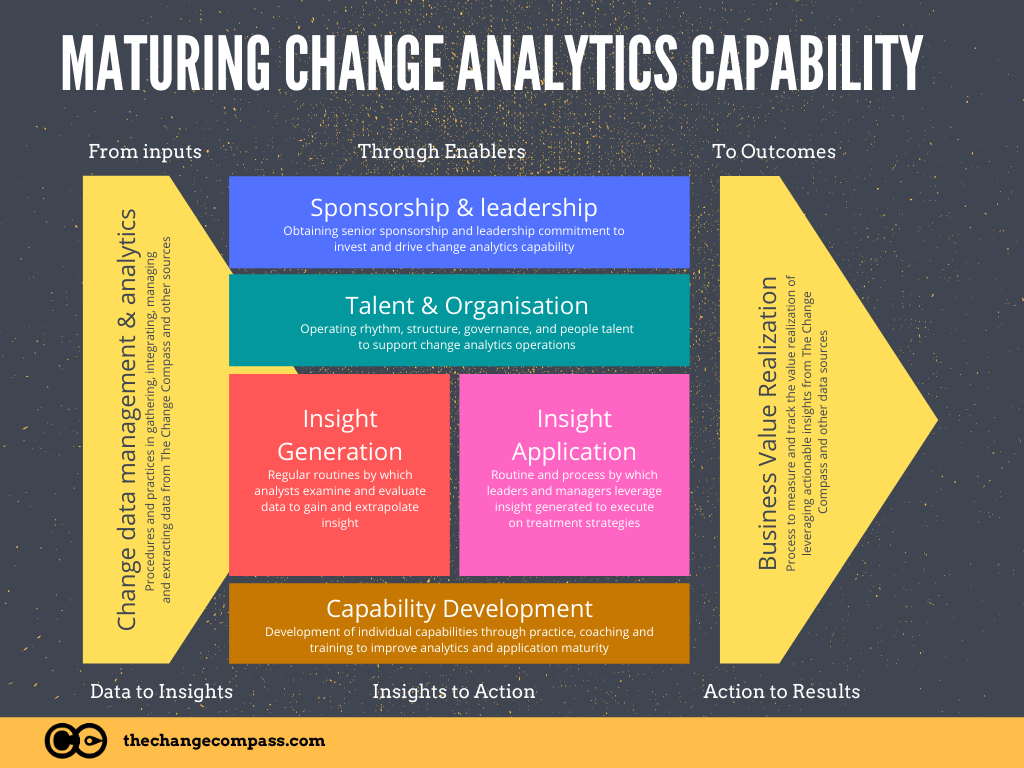 To read more about building and maturing change analytics capability click here.
2. Capability in leveraging the tool to make business decisions.
After having an integrated view of change initiatives the company will then need to learn how to use the data to make critical decisions around managing employee bandwidth to absorb change initiatives, resourcing impact, potential impact on customer experience, timing of initiatives and overall alignment with the strategy. A determination will need to be made on how much change capacity will be deemed to much, ideally with historical data to derive cause and effect.
In undergoing this journey of rolling out an enterprise change tool, companies will find that their overall change capability will increase, for the same reason that after implementing SAP companies usually find that their targeted capabilities have increased linked to the specific modules being rolled out. This is because the company's processes and operations are being redesigned to support the tool, assuming the tool is designed at Change Management best practice level.
In this article I've placed focus on the initial fundamental equation of understanding what is changing and having an integrated view of initiatives. Once this is established, there are many other areas to focus on to effectively manage a large number of initiatives, such as building and scaling change leadership capability in managers, establishing a portfolio change function, creating a change risk framework, aligning customer impact data with customer experience management, etc. Stay tuned for further articles in these areas.
Change Compass provides a leading edge proprietary enterprise change management tool as well as change management consulting services.
Click here to read more about the journey of realising value through change data and analytics.